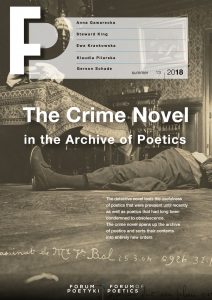 One standout phenomenon of literature from the turn of this century is the detective novel with its relevance and sharp rise in popularity. This trend has played out similarly in the literature of so many countries that scholars of world literature have had good reason to seize the genre as a new impetus for their global assessments of literary production (Steward King suggests as much in the article whose translation appears in this issue). (...)
---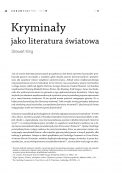 We publish Polish translation of Stewart King's "Crime Fiction as World Literature", A Journal of Detection, Volume 32, Number 2, Fall 2014, pp. 8-19. Published by McFarland & Company, Inc..
---
"Sir, if you will, everything but
the criminal case is a puzzle;
the case becomes a fragment
carefully extracted from reality,
just a snippet of it, momentarily
caught in the spotlight."[1]
The structural parameters for crime literature have been the subject of numerous overviews, critical essays, and recapitulations.
(...)
Tagi:
Anna Gawarecka
,
summer 2018
---
The contemporary Polish crime novel is a fascinating but unusually complex phenomenon. It would be difficult to sketch out a Polish school of crime literature, as we might do more easily in the Scandinavian context. Nor is it easy to identify commonalities among Polish authors.
(...)
Tagi:
Klaudia Pilarska
,
summer 2018