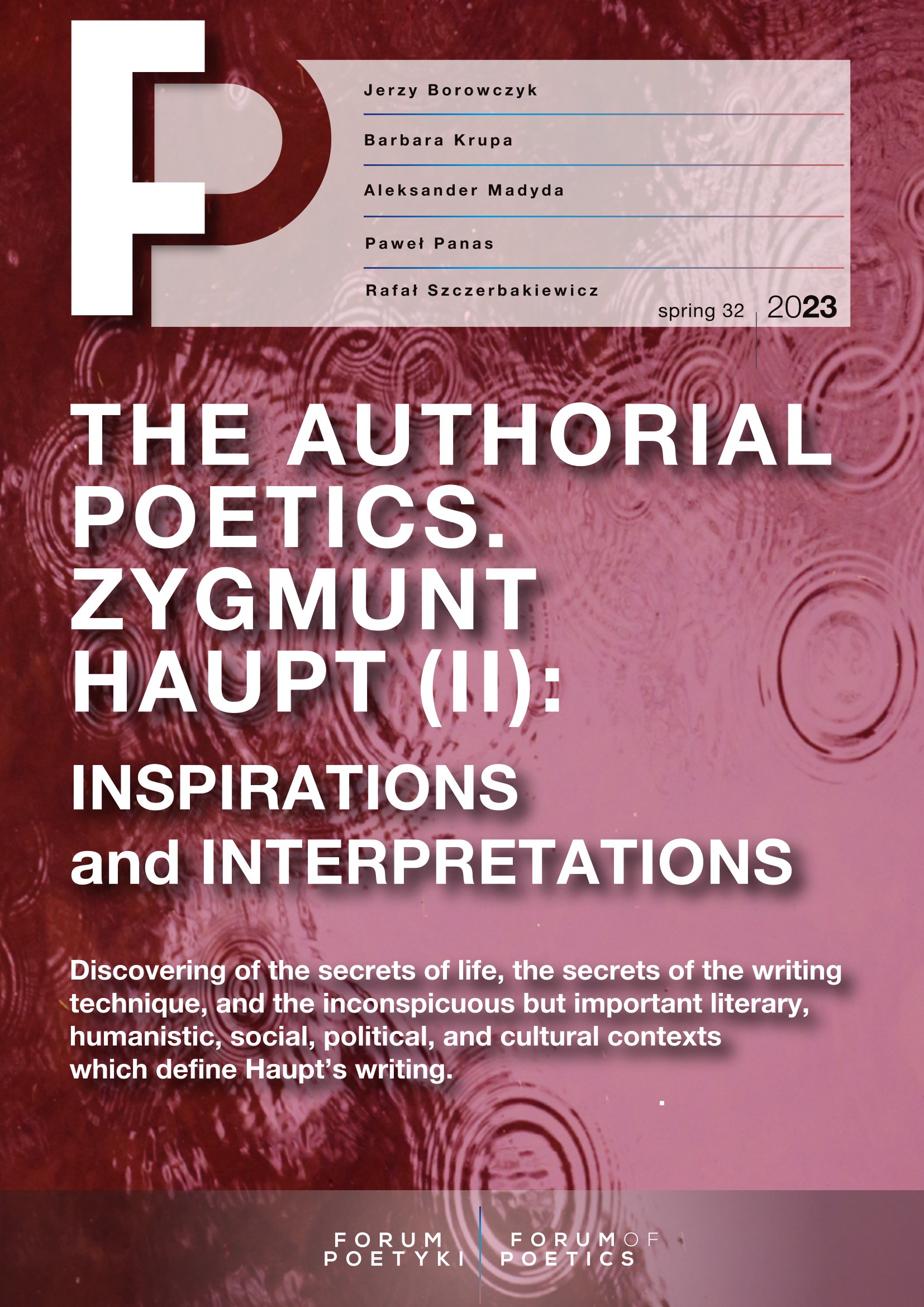 Editing and textology, text genetics, epistolography, literary biography, sociology of literature, psychoanalysis, geopoetics, entropy, Conradese inspirations, climbing and mountaineering as cultural practices – in short, this is our network of methodological reference points – tendencies characteristic of both the traditional and the new humanities. This network shows research perspectives adopted by the authors of the articles published in the second issue of Forum of Poetics devoted to Zygmunt Haupt's authorial poetics. These ten articles in one way or another focus on one of three main issues, namely writing style, inspirations, and contexts. Indeed, Hauptologists whose texts we publish in this issue set to discover the secrets of life, the secrets of the writing technique, and the inconspicuous but important literary, humanistic, social, political, and cultural contexts which define Haupt's writing.
In the "Theories" section Rafał Szczerbakiewicz argues that the concept of entropy in Haupt's work has semantically expanded. Discussed against the background of Haupt's early American experiences, it allows us to draw parallels between Haupt's and Faulkner's writing. Both writers were intrigued by the imbalance between nature and civilization, which eventually led to catastrophe. As such, entropy seems to be a sign of hope – hope for the new – and with it a form of younger entropy. Michał Zając analyzes how Haupt constructs his literary characters, using psychoanalytical tools of Sigmund Freud and Jacques Lacan. He draws primarily on the concept of drive as an artistic montage developed by Lacan in order to analyze literary portraits of Haupt's heroines. In Haupt's prose, a montage of memories points to the very mechanism of imaginary representation set in motion by a drive spring. Przemysław Kaliszuk examines the themes of mountains and mountaineering in Haupt's selected short stories. Kaliszuk reflects on how mountains and new cultural practices related to them (climbing and mountaineering) may inform Haupt's reflection on the phenomena and processes that define modernity. Jerzy Borowczyk analyzes the process of creating the story Entropia [Entropy], with the help of French genetic criticism and John Bryant's category of fluid text. He argues that Haupt's manuscripts are an integral, living part of his oeuvre, in which the struggle to show values arising from the relationship between man and place never ends. Conradese inspirations are not, as Wiesław Ratajczak notes, often found in Haupt's prose but they play an important role. By pointing to similarities and differences, the author defines his writing method. As a reader of Conrad, Haupt is interested in the poetics of concealment and disclosure, the relationship between memory and repression, the poetical and the symbolic, as well in Conrad's dark childhood experiences and memories of his homeland. Thanks to this, Ratajczak argues, we see Haupt's writerly succinctness and "density", and the fact that he combines the familiar with the exotic, the lyrical with the tragic, the personal with the universal, the serious with the mournful, in new light.
The first three articles in the "Practices" section present the results of archival research, including not only the most extensive collection of Haupt's literary legacy at Stanford University Libraries (USA) but also the Archives of the Literary Institute in Maisons-Laffitte. Aleksander Madyda, a monographer and editor of Haupt's works, reconstructs the missing fragments of the story Zołota hramota [The Golden Writ]. He shows the reproductions of the burnt pages of the story and proves that "manuscripts don't burn." He carefully reconstructs the lost fragments thanks to his knowledge of Haupt's entire oeuvre, characterized by a repeated use of certain motifs and corresponding linguistic expressions. Paweł Panas writes about Haupt's correspondence with Maria and Józef Czapski (from 1950 to 1975), quoting Haupt's meta-artistic confession, which is so out of character for the writer: "I believe in the type of creative work relying on symbols, ambiguity, as it invites the reader to co-create" (letter to Czapski dated December 15, 1972). Panas, as a researcher (and the editor of those letters), is interested not only in the long friendship between Haupt and Czapski but also in Polish emigrée life after 1945 as well as Haupt's epistolary art. Barbara Krupa, who co-curated The Zygmunt Haupt Papers held in Special Collections at Stanford University Libraries, analyzes radio broadcasts prepared by Haupt for the Voice of America in the years 1951–1958. The transcripts are held at Stanford University Libraries, and they center on literary, cultural and scientific life in the USA. As such, they can be considered a valuable source of knowledge about Haupt's America. Most of them are informative in nature, although some are also propagandistic. In the same section Jagoda Wierzejska reconstructs early important years of Haupt's life and work, examining his first steps as a writer against the background of the intellectual and artistic life of Lviv in the 1930s. She primarily examines Haupt's connections with the literary group Rybałci [Minstrels] and tries to explain to what extent Haupt's early life in Lviv influenced his later literary career. Ukraine is also discussed in the next text. Tadeusz Sucharski writes about unique "pronominal" spatiality found in Haupt's prose (expressed by means of such expressions as "u nas" [in our region] and the contrasting combinations of "tam" [there] and "tutaj" [here]). It turns out that Haupt, on the one hand, poetized the space of "his region," and, on the other hand, defined it, often imprecisely, by referring to specific geographical locations. The "Letychiv" district metaphorically refers to "places of origin," as defined by the artist's imagination.
Indeed, the two issues of Forum of Poetics devoted to Haupt's authorial poetics show just how multidimensional it is. We hope that the nearly twenty texts which center on it will be an inspiration for Polish studies scholars, literary scholars, and humanists in general interested in modern and late modern literature. Many hidden gems which require new readings and interpretations may be still found in it.
Table of Contents:
Rafał Szczerbakiewicz, Haupt's America. Attempts at an entropic novel. Luizjana, W barze Harry'ego, Zamierzchłe echa, Oak Alley nad Missisipi, Cyklon
Michał Zając, Zygmunt Haupt's literary engineering
Przemysław Kaliszuk, "White bellies of fish:" Zygmunt Haupt and modernity's fascination with mountaineering
Jerzy Borowczyk, A ring in the archive. Genetics and fluidity of Zygmunt Haupt's short stories
(the author's legacy in Stanford Libraries)
Wiesław Ratajczak, Conradian inspirations in Zygmunt Haupt's prose
Aleksander Madyda, "Manuscripts don't burn:" The reconstruction of the text of Zygmunt Haupt's short story Zołota hramota
Paweł Panas, "[…] We have lost our hearts to you". Some initial remarks on the correspondence between Zygmunt Haupt and Maria and Józef Czapski
Barbara Krupa, Zygmunt Haupt's radio shows in the Voice of America: American literature, art, science and social life
Jagoda Wierzejska, Zygmunt Haupt in Lviv: An excerpt from the intellectual and artistic macro- and micro-history
Tadeusz Sucharski, "In our region…", or Haupt's "Letychiv district"