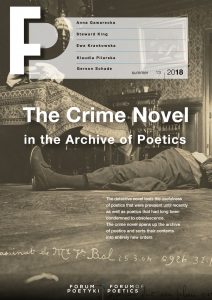 One standout phenomenon of literature from the turn of this century is the detective novel with its relevance and sharp rise in popularity. This trend has played out similarly in the literature of so many countries that scholars of world literature have had good reason to seize the genre as a new impetus for their global assessments of literary production (Steward King suggests as much in the article whose translation appears in this issue).
For reasons worth exploring, the readership of detective novels exhibits a growing trust in the genre as a means to encounter other cultures as well as one's own. The crime novel serves readers as a prism for examining repositories of niche areas of knowledge, historical episodes, accounts of events long past, scientific achievements both celebrated and forgotten, infinite lists, databases, registries and catalogues. Nearly all detective novels feature some instance of inquiring into various reservoirs of knowledge that will potentially play into the criminal investigation. In this way, using genre conventions to win the reader's trust and exchange knowledge reveals much about how this literary form has shaped contemporary attitudes, emotions and needs. The reality of local and distant threats not only coaxes the readers' Stimmung into the set of moods appropriate for crime novels, but also prompts readers to learn more and pursue knowledge according to this new key and these new critical premises.
We can find an analog to these processes in a certain feature of the contemporary detective novel and its poetics. Winning the reader's trust also implies securing their approval to test the usefulness of poetics that were prevalent until recently as well as poetics that had long been condemned to obsolescence. The crime novel opens up the archive of poetics and sorts their contents into entirely new orders. An excellent example of this is the revival of the militia crime novel. Until so recently, this would have seemed implausible, but this genre variation is now known and beloved to Polish fans of crime fiction. In its time, the subgenre was a straightforward product of the cultural politics of the communist regime, for it was a conducive vessel for the state's ideological messages and therefore soon became the object of disparaging and often irreverent critiques that emphasized its unimaginative and derivative character (Stanisław Barańczak's major study on the subject makes this argument). Alongside detective novels by authors such as Ryszard Ćwirlej, the militia crime novel has made a triumphant comeback in Polish literature, proving that it can hold its own as heir of this reviled and near-dead literary form. It has even begun to exert an ineluctable yet undeniable charm.
The authors of the articles featured in this issue of "Forum of Poetics" set off on precisely this path. Their essays and surveys emphasize the poetological boldness and unpredictability of the contemporary crime novel that engages the archive of poetics. Anna Gawarecka discusses Czech detective novels that unexpectedly revive a formal strategy coined in nineteenth century Czech literature and forgotten in the intervening years. Bernadetta Darska points out the increasingly visible affinities between crime novel protagonists and comic book superheroes. Klaudia Pilarska offers a close reading of one of Gaja Grzegorzewska's finest crime novels and demonstrates how it pays homage to Agatha Christie as master prototype in order to spawn a creative reworking of the intertextual crime novel. Gerson Schade offers a philological commentary on the interpolation of classical literature in Marek Krajewski's detective novels. Ewa Kraskowska takes a close look at the evolution of the campus murder mystery as a genre variation, while Wiktoria Klera discusses Chandler's poetics and their influence on contemporary poets. Michał Larek, an author of detective novels based in Poznań, shares his thoughts on a new approach to the writer's toolkit proposed by Polish crime novel celebrity Katarzyna Bonda in her recently published writer's manual. Finally, Adrianna Woroch reviews Jakob Stougaard-Nielsen's book on the contemporary Scandinavian crime novel and offers a critical analysis of emerging forms of socially engaged prose coming out of contemporary Nordic Noir.
In the archive of poetics, the contemporary detective novel continues to unearth a wealth of mysteries it can solve on its own terms. This process has proven to be decidedly effective in provoking emotional thrills.
Table of Contents

:
Anna Gawarecka, The Mystery in the Image. Czech Writers Solving Crimes in the Art World
Klaudia Pilarska, How Much Crime Novel is there in the Crime Novel? On Genre Reflexivity in Gaja Grzegorzewska's Stony Night
Bernadetta Darska, The Contemporary Crime Novel as a Variation on the Superhero Theme. Preliminary Thoughts
Stewart King, Crime Fiction as World Literature
Gerson Schade, The strange case of early Mock and the Classics
Michał Larek, Bonda and Storytelling
Ewa Kraskowska, The academic murder mystery
Adrianna Woroch, Scandinavian Crime Fiction, or: A Few Words on Snow, Myth, and Murder