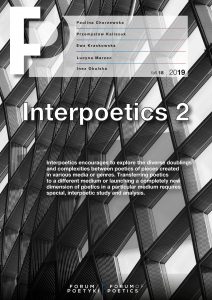 The second issue of the "Forum of Poetics " devoted to interpoetics formulates numerous questions that belong to it even more vividly and in a more multidimensional way than the first issue. First of all, it completes the problem of a particular duality, which is described by interpoetics studies.
What kind of experience does it become for the underage readers who choose to read – and do so on a mass scale – the popular novel series Diary of an 8-Bit Warrior by Cube Kid, a well-known novelization of the Minecraft computer game? The poetics of the game becomes the basis of the novel's poetics and in this form it acquires and tests its new possibilities. The Diary can be analysed as a separate work and the roles it defines for those who read it can be followed. It seems, however, that the series of novels about an 8-Bit Warrior is most often perceived in a different mode, i.e. as offering at the same time the poetics of a novel and the poetics of an iconic computer game. It is from this double interpoetological perspective that the series viewed gives unique, unrepeatable reading pleasure and opens a new receptive space, where the value becomes an innovative overlay of the world of the novel on the world of the game.
Interpoetics encourages to explore the diverse doublings and complexities between poetics of pieces created in various media or genres. Transferring poetics to a different medium or launching a completely new dimension of poetics in a particular medium requires special, interpoetic study and analysis. In this issue we offer several related articles. Inez Okulska shows how contemporary computer programs can generate lyrics in a particular poetics, which can be tested even with the lyrics of a popular song by Ed Sheeran. Lucyna Marzec draws up a project of a new study of traditional epistolography, which would analyze the combination of several dimensions, e.g. a written text supplemented with "material" extras in the form of stickers, colourful drawings, small items. Honorata Sroka directly refers to the Marzec's project in an article on the interpoetics of autobiography, her interesting example being the verbal-visual compositions of a pair of Polish-British avant-garde artists, Franciszka and Stefan Themerson. The already mentioned problem of the novelizations of computer games in a comprehensive view is discussed by Joanna Sikorska. A fascinating case of the poetic creation by Tomasz Pułka has been analyzed by Paulina Chorzewska; the young artist has covered with artistic comments on the screenshots, i.e., the snapshots of websites where he has published his lyrical texts. Weronika Szwebs carefully examines the discrete problem of translation – the places where the Polish translator of Le Plaisir du Texte by Roland Barthes has chosen words that are strongly influenced by the Polish literary tradition, to which the French author did not refer. According to Szwebs, the "pleasurable" imperative of overlaying the poetics of Roland Barthes's text on texts of Polish literature unknown to him worked in this case. Przemysław Kaliszuk resembles an eccentric novel by Ryszard Schubert Trenta Tre based on references to neglected and marginal texts of culture, thus forcing a unique interpoetological interpretation conducted between noticeable and unnoticeable layouts. Ewa Rajewska analyses Freeman Tilden's classic heritological study and reflects on the benefits for literary studies of his project of interpreting the ontologically complex cultural heritage objects. Nikodem Wołczuk defines "variant" in his traditional and neo-genetic approach. Finally, Ewa Kraskowska discusses an important and innovative monography by Anna Łebkowska on somatopoetics.
The interpoetics, a sample of which we present in this issue of "Forum of Poetics", provides an insight into very contemporary processes of radical transformations of poetics. The analyzed artworks and experiments form part of these processes, their documentation and observance at the same time. And perhaps even interpoetics itself, as a research practice, must also vividly define and complicate its own ontological status.
translated by Agnieszka Kocznur
Table of Contents:
Lucyna Marzec, Interpoetics of correspondence: figures for constructing presence, fictionalization, and disruptions of presence technologies
Inez Okulska, GAN and GPT-2 neural networks, worn words and creativity, namely literary second-hand second-hand
Joanna Sikorska, Over the inter-, in the trance– circle. Novelizations to video games as an example of transmedia narratives
Paulina Chorzewska, The screenshot as a poetic device: Tomasz Pułka's graphic posts on the Cichy Nabiau art-blog
Honorata Sroka, Autobiographical interpoetics. Wartime works by Franciszka and Stefan Themerson
Weronika Szwebs, The pleasure of the intertext (in translation): The case of Barthes and Lewańska
Przemysław Kaliszuk, Boobalk, Schubert and Codes